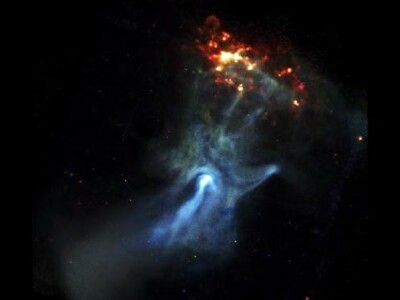 English
NASA picture of God's hand seen in space!
You think? I am absolutely convinced that he is more stupid than NASA. God exists but photographed or hand stories of thousands of stories circulating in the world are just stories for children.
Those who are faithful know that God is Almighty, Loving, and including jealous.
One day it will look but it will be destroyed on the ground and those who are sinners will tremble with fear and horror.
Romania
NASA a fotografiat mana lui Dumnezeu vazuta in spatiu !
Voi credeti ? Eu sunt absolut convins ca este o prostie mai mare decat NASA. Dumnezeu exista dar povestile cu mana fotografiata sau alte mii de povesti care circula in lume sunt numai povesti pentru copii.
Cei care sunt credinciosi stiu ca Dumnezeu este Atotputernic, Iubitor, si inclusiv gelos.
Intr-o buna zi se va arata dar atunci va fi prapad pe pamant si cei care suntem pacatosi vom tremura de frica si groaza.
Spain
Foto de la NASA de la mano de Dios ha visto en el espacio!
¿Eso crees? Estoy absolutamente convencido de que es más grande estúpidez que la NASA. Dios existe, pero las historias fotografiadas o las miles de historias que circulan en el mundo son sólo cuentos para niños.
Los que son fieles saben que Dios es todopoderoso, amoroso, y tambien celoso.
Un día se vendrá, pero serán destruidos los pecadores y van temblar de miedo y horror.
Africans
NASA beeld van God se hand gesien in die ruimte!
Jy dink? Ek is absoluut oortuig dat hy meer stupid as NASA. God bestaan, maar gefotografeer of per hand stories van duisende stories in omloop in die wêreld is net stories vir kinders.
Diegene wat getrou is weet dat God is Almagtig, Liefdevol, en met jaloers.
Een dag sal dit kyk, maar dit sal vernietig word op die grond en diegene wat sondaars sal bewe met vrees en gruwel.
Albania
Foto NASA e dorës së Perëndisë shihet në hapësirë!
Ju mendoni? Unë jam i bindur absolutisht se ai është më i trashë se NASA. Zoti ekziston, por tregimet e fotografuar ose dora e mijëra historive që qarkullojnë në botë janë vetëm tregime për fëmijë.
Ata që janë besnik e di se Zoti është i plotfuqishëm, shumë i dashur, dhe duke përfshirë edhe xheloz.
Një ditë ajo do të duket, por ajo do të jetë shkatërruar në tokë dhe ata që janë mëkatarë do të dridhet me frikë dhe tmerr.
Germany
NASA-Bild von Gottes Hand im Raum gesehen!
Du denkst? Ich bin absolut überzeugt, dass er dümmer als die NASA. Gott existiert, sondern fotografiert oder Hand Geschichten von tausend Geschichten, die in der Welt sind nur Geschichten für Kinder.
Diejenigen, die treu sind, wissen, dass Gott, der Allmächtige, liebevoll und auch eifersüchtig ist.
Eines Tages wird es aussehen, aber es wird auf den Boden zerstört und diejenigen, die Sünder sind mit Angst und Schrecken zu zittern.
Arabe
ناسا صورة يد الله ينظر في الفضاء!
رأيك؟ أنا مقتنع تماما بأنه أكثر غباء من وكالة ناسا. الله موجود ولكن قصص تصويرها أو جهة الآلاف من القصص المتداولة في العالم هي مجرد قصص للأطفال.
أولئك الذين هم المؤمنين اعلموا أن الله سبحانه وتعالى، ودود، وبما في ذلك الغيرة.
يوم واحد ولكن يبدو انه سيتم تدمير على الأرض، وأولئك الذين هم مذنبون وترتعش من الخوف والرعب.
Armenia
NASA-picture Աստծո ձեռքը տեսել տարածության մեջ!
Կարծում եք? Ես միանգամայն համոզված է, որ ինքը շատ ավելի հիմար, քան NASA. Աստված գոյություն ունի, բայց լուսանկարել կամ ձեռքի պատմություններ հազարավոր պատմություններ շրջանառվող աշխարհում ընդամենը պատմություններ երեխաների համար.
Նրանք, ովքեր հավատարիմ գիտեմ, որ Աստված է, Ամենազոր, սիրող, եւ այդ թվում, խանդոտ.
Մի օր դա տեսք կունենա, բայց դա կլինի ոչնչացվել են գետնին, եւ նրանց, ովքեր sinners չի դողում է վախի ու սարսափի.
Azerbaijani
Allahın el NASA şəkil məkanında görüldü!
Mi? Mən tamamilə o daha NASA çox saçma əminəm ki. Allah var, lakin dünyada dövriyyə hekayələr minlərlə fotoğrafını və ya əl hekayələr yalnız uşaqlar üçün hekayələr edilir.
Kim sadiq olanlar Allah yenilməz qüvvət sahibi qısqanc o cümlədən, şanlı və olduğunu bilirik.
Bir gün ancaq görünür ki əsasında məhv olacaq və kim günahkar olanlar qorxu və dəhşətdən əsmək olacaq.
Bielorusia
НАСА карціна руку Бога бачыў у космасе!
Вы думаеце? Я абсалютна перакананы, што ён дурней НАСА. Бог існуе, але фатаграфавацца або боку гісторыі тысячы гісторый, якія цыркулююць у свеце проста апавяданні для дзяцей.
Тыя, хто верныя ведаем, што Бог Усемагутны, Хто любіць, у тым ліку і раўнаваць.
Адзін дзень ён будзе выглядаць, але гэта будзе знішчана на зямлі і тыя, хто грэшнікі будуць дрыжаць ад страху і жаху.
Bulgaria
НАСА картина на Божията ръка виждал в космоса!
Мислиш ли, че? Аз съм абсолютно убеден, че той е по-глупав от НАСА. Бог съществува, но снимана или страна историите на хиляди истории циркулира в света са само приказки за деца.
Тези, които са верни знам, че Бог е всемогъщ, обичам, включително и ревнив.
Един ден тя ще изглежда, но ще бъдат унищожени на земята и тези, които са грешници ще треперят от страх и ужас.
Catalan
Foto de la NASA de la mà de Déu ha vist en l'espai!
Això creus? Estic absolutament convençut que és més estúpid que la NASA. Déu existeix, però les històries fotografiades o la mà de milers d'històries que circulen en el món són només contes per a nens.
Els que són fidels saben que Déu és totpoderós, amorós, i com gelós.
Un dia es veurà, però seran destruïts a terra i els que són pecadors va a tremolar de por i horror.
Czech
NASA obraz boží ruky viděl ve vesmíru!
Myslíte, že? Jsem naprosto přesvědčen, že on je více než hloupý NASA. Bůh existuje, ale fotografoval nebo ručně příběhy tisíce příběhů provozovaných ve světě jsou jen příběhy pro děti.
Ti, kteří jsou věrní vědí, že Bůh je všemohoucí, milující, a to včetně žárlivý.
Jeden den to bude vypadat, ale to bude zničeno na zemi a těmi, kteří jsou hříšníci se budou třást strachem a hrůzou.
Chino Simple
美国宇航局上帝之手的图片出现在空间!
你觉得呢?我绝对相信,他比美国宇航局愚蠢的。上帝存在,但在全世界流通的故事数千手的故事拍摄或只是为孩子们的故事。
这些谁是忠诚知道,上帝是万能的,有爱心,包括嫉妒。
有一天,它的外观,但它会在地面上摧毁,那些谁是罪人都会胆战心惊和恐惧。
Chino Traditional
美國宇航局的圖片上帝的手出現在空間!
你覺得呢?我絕對相信,他更傻比美國航空航天局。神的存在,但拍照或手的故事流傳千年的故事在世界上都只是故事的孩子。
這些誰是忠誠知道,上帝是萬能的,有愛心,包括嫉妒。
有一天,它的外觀,但它會被摧毀在地面上和那些誰是罪人會膽戰心驚和恐懼。
Corea
하나님의 손을 NASA의 사진은 우주에서 본!
넌 어때? 난 절대적으로 그가 NASA에서 더 이상의 바보는 것을 확신합니다. 하나님이 존재하지만 세계에서 순환 이야기 수천명의 사진이나 손 이야기는 어린이들을위한 이야기입니다.
누구 충실한있는 사람들은 하나님의 질투를 포함한 전지 전능하신 사랑, 그리고는 것을 압니다.
언젠가는하지만 모양 그것은 지상에서 파괴되며 누가 죄인있는 사람들은 두려움과 공포로 떨게 될 것이다.
Haiti
NASA foto nan men Bondye a te wè nan espas!
Ou panse? I am absoliman konvenki ke se li ki pi plis sòt pase NASA. Bondye egziste, men fotografye oswa men istwa de milye de istwa sikile nan mond lan se jis istwa pou timoun.
Moun ki gen fidèl konnen ke se Bondye ki gen tout pouvwa, eme, epi ki enkli fè jalouzi.
Yon jou li pral gade men li pral detwi sou tè a ak moun ki moun k'ap fè peche yo ap tranble ak laperèz ak laterè.
Croacia
NASA-slika Božja ruka vidi u svemiru!
Vi mislite? Ja sam apsolutno uvjeren da je gluplji od NASA-e. Bog postoji, ali fotografirali ili ručno priče tisuće priča kruži u svijetu su samo priče za djecu.
Oni koji su vjernici znaju da je Bog Svemogući, Voljeti, uključujući i ljubomoran.
Jednog dana to će izgledati, ali to će biti uništen na terenu i onima koji su grješnici će drhtati od straha i užasa.
Danish
NASA billede af Guds hånd ses i rummet!
Du tror? Jeg er helt overbevist om, at han er mere dum end NASA. Gud eksisterer, men fotograferet eller hånd historier af tusindvis af historier i omløb i verden er bare historier for børn.
De, der er trofaste vide, at Gud er den Almægtige, kærlig, og herunder jaloux.
En dag vil det se, men det vil blive ødelagt på jorden, og dem, der er syndere, vil ryste af skræk og rædsel.
Slovacia
NASA obraz boží ruky videl vo vesmíre!
Myslíte, že? Som absolútne presvedčený, že on je viac ako hlúpy NASA. Boh existuje, ale fotografoval alebo ručne príbehy tisíce príbehov prevádzkovaných vo svete sú len príbehy pre deti.
Tí, ktorí sú verní vedia, že Boh je všemohúci, milujúci, a to vrátane žiarlivý.
Jeden deň to bude vyzerať, ale to bude zničené na zemi a tými, ktorí sú hriešnici sa budú triasť strachom a hrôzou.
Slovenia
NASA sliko roko Boga videli v vesolju!
Misliš? Popolnoma sem prepričan, da je bolj neumen kot NASA. Bog obstaja, a fotografirano ali pa zgodbe o tisočih zgodb kroži po svetu, je le zgodbe za otroke.
Tisti, ki so zvesti vedo, da je Bog vsemogočen, ljubeč, in tudi ljubosumen.
Nekega dne bo videti, vendar bodo uničena na tleh in tiste, ki so grešniki se tresti od strahu in groze.
Estonia
NASA pilt Jumala käsi vaadelda ruumi!
Arvad või? Ma olen täiesti veendunud, et ta on rohkem loll kui NASA. Jumal on olemas, kuid pildistatud või käsi lood tuhandeid lugusid ringleb maailmas on just lastejutte.
Need, kes on ustav tean, et Jumal on kõikvõimas, armastav ja ka armukade.
Ühel päeval ta otsib, kuid see hävitatakse kohapeal ja neile, kes on patused teeb värisema hirmu ja õudusega.
Euskera
NASA Jainkoaren eskua irudi leku ikusten!
Uste duzu? Erabat konbentzitu da, esan zuen NASA baino gehiago ergelak naiz. Jainkoa existitzen baina argazkia edo esku ipuin munduan zirkulatzen milaka istorioak besterik ez dira haurrentzako istorioak.
Direnek fidela jakin Jainkoak da Almighty, Loving, eta jeloskor barne.
Egun batean, baina itxura du lurrean izango suntsitu eta direnek bekatari dira beldurra eta beldurrezko ekin dardarka.
Finland
NASA kuva Jumalan käsi nähnyt avaruudessa!
Luuletko? Olen täysin vakuuttunut siitä, että hän on tyhmempi kuin NASA. Jumala on olemassa, mutta kuvannut tai käden tarinoita tuhansia tarinoita liikkuu maailmassa vain tarinoita lapsille.
Ne, jotka ovat uskollisia tietää, että Jumala on kaikkivaltias, rakastava, ja myös mustasukkainen.
Eräänä päivänä se näyttää, mutta se hävitetään paikan päällä ja ne, jotka ovat syntisiä vapisevat pelosta ja kauhusta.
Francia
Image NASA de la main de Dieu a vu dans l'espace!
Tu crois? Je suis absolument convaincu qu'il est plus bête que la NASA. Dieu existe, mais des histoires photographiées ou la main de milliers d'histoires qui circulent dans le monde ne sont que des contes pour enfants.
Ceux qui sont fidèles savent que Dieu est Tout-Puissant, Aimer, et notamment jaloux.
Un jour, il ressemblera, mais il sera détruit sur le terrain et ceux qui sont pécheurs trembler de peur et d'horreur.
Galicia
NASA llun o law Duw welir yn y gofod!
Eich barn chi? Yr wyf yn gwbl argyhoeddedig ei fod yn fwy na NASA dwp. Duw yn bodoli ond storïau ffotograffau neu â llaw o filoedd o straeon sy'n cylchredeg yn y byd yn unig straeon i blant.
Mae'r rhai sydd yn ffyddlon yn gwybod bod Duw yn Hollalluog, cariadus, ac yn cynnwys genfigennus.
Un diwrnod, bydd yn edrych, ond bydd yn cael ei dinistrio ar lawr gwlad a bydd y rhai sydd yn bechaduriaid crynu ag ofn ac arswyd.
Gallego
NASA imaxe da man de Deus é visto no espazo!
Pensas? Estou absolutamente convencido de que é máis estúpido que a NASA. Deus existe, mais as historias fotografadas ou man de miles de historias que circulan no mundo son só historias para nenos.
Aqueles que son fieis saben que Deus é todopoderoso, Amoroso, incluso con celos.
Un día que vai mirar, pero será destruído no terreo e aqueles que son pecadores van tremer de medo e terror.
Georgia
NASA სურათი ღმერთის ხელი ჩანს სივრცეში!
თქვენი აზრით? მე აბსოლუტურად დარწმუნებული, რომ ის უფრო სულელი ვიდრე NASA. ღმერთი არსებობს, მაგრამ გადაიღო ან ხელით ისტორიები ათასობით მოთხრობები ცირკულირებს მსოფლიოში უბრალოდ მოთხრობები ბავშვებისათვის.
ვინც ერთგული ვიცით, რომ ღმერთი არის ყოვლისშემძლე, მოსიყვარულე, და მათ შორის ეჭვიანობს.
ერთ დღეს იგი გამოიყურება, მაგრამ ეს იქნება განადგურებული ადგილზე და ვინც ცოდვილთა იქნება tremble შიშის და საშინელება.
Grece
NASA εικόνα του χεριού του Θεού δει στο διάστημα!
Νομίζεις; Είμαι απόλυτα πεπεισμένος ότι είναι πιο ανόητο από τη NASA. Ο Θεός υπάρχει αλλά φωτογραφηθεί ή χέρι ιστορίες χιλιάδες ιστορίες που κυκλοφορούν στον κόσμο είναι απλά ιστορίες για παιδιά.
Όσοι είναι πιστοί ξέρουν ότι ο Θεός είναι Παντοδύναμος, αγάπη, και συμπεριλαμβανομένης ζηλιάρης.
Μια μέρα θα δούμε, αλλά θα καταστραφεί στο έδαφος και εκείνων που είναι αμαρτωλοί θα τρέμουν από φόβο και τρόμο.
Hebrew
התמונה של נאס"א ידו של אלוהים לראות בחלל!
אתה חושב? אני משוכנע כי הוא טיפש יותר נאס"א. אלוהים קיים, אבל סיפורים מצולמים או יד של אלפי הסיפורים שנפוצו בעולם הם רק סיפורים לילדים.
מי הם המאמינים יודעים כי אלוהים הוא הגדול מכולם, אוהבת, לרבות קנאה.
יום אחד זה ייראה, אבל זה יהיה הרס על הקרקע ואת מי הם חוטאים ירעד עם הפחד והאימה.
Hindi
भगवान के हाथ की तस्वीर नासा अंतरिक्ष में देखा!
तुम्हें लगता है? मैं पूरी तरह आश्वस्त है कि वह अधिक नासा से मूर्ख है हूँ. भगवान मौजूद है, लेकिन दुनिया में घूम कहानियों के हजारों की फोटो या हाथ की कहानियाँ हैं सिर्फ बच्चों के लिए कहानियाँ.
जो वफादार रहे हैं जानते हैं कि परमेश्वर सर्वशक्तिमान, प्यार, ईर्ष्या सहित है.
एक दिन यह लग रही है लेकिन इस आधार पर यह नष्ट हो जाएगा और जो पापी हैं भय और आतंक के साथ कांप जाएगा.
Holand
NASA beeld van Gods hand zien in de ruimte!
Je denkt? Ik ben er absoluut van overtuigd dat hij dommer is dan de NASA. God bestaat, maar gefotografeerd of met de hand verhalen van duizenden verhalen in omloop in de wereld zijn slechts verhalen voor kinderen.
Degenen die trouw zijn weten dat God de Almachtige, Liefdevolle, inclusief jaloers.
Op een dag het eruit zal zien, maar het zal worden vernietigd op de grond en degenen die zondaars zal beven van angst en verschrikking.
Hungary
NASA képet Isten kezét látta az űrben!
Azt hiszed? Teljes mértékben meg vagyok győződve arról, hogy ő több, mint a hülye NASA. Isten létezik, hanem lefényképezték, vagy kézzel történetek több ezer történet kering a világban csak történeteket a gyermekek számára.
Azok, akik hűségesek tudják, hogy Isten mindenható, szerető, beleértve féltékeny.
Egy nap úgy fog kinézni, de ez el fog pusztulni a földön, és azokat, akik bűnösök fog remegni a félelemtől és a horror.
Indonesia
NASA gambar tangan Tuhan terlihat di luar angkasa!
Anda pikir? Saya benar-benar yakin bahwa dia lebih bodoh daripada NASA. Tuhan itu ada tapi cerita difoto atau tangan ribuan cerita beredar di dunia hanya cerita untuk anak-anak.
Mereka yang setia tahu bahwa Allah adalah Maha Kuasa, Loving, dan termasuk cemburu.
Suatu hari akan terlihat namun akan dihancurkan di tanah dan orang-orang yang berdosa akan gemetar dengan rasa takut dan ngeri.
Irland
NASA pictiúr de lámh Dé le feiceáil sa spás!
Cheapann tú? Tá mé go hiomlán cinnte go bhfuil sé níos mó ná dúr NASA. Dia ann ach scéalta grianghraf nó ar láimh na mílte scéalta a scaiptear sa domhan a bhfuil ach scéalta do pháistí.
Iad siúd a bhfuil dílis fhios agat go bhfuil Dia Almighty, grámhar, agus lena n-áirítear éad.
Lá amháin, beidh sé cuma ach beidh sé a scrios ar an talamh agus iad siúd atá peacaigh chritheagla leis an eagla agus horror.
Island
NASA mynd af hönd Guðs sést í rúm!
Þú heldur? Ég er algerlega sannfærður um að hann er meira heimskur en NASA. Guð er til en ljósmyndari eða hendi sögur þúsunda af sögum í gangi í heiminum eru bara sögur fyrir börn.
Þeir sem eru trúir veit að Guð er Almáttugur, Loving, og þar á meðal vandlátur.
Einn daginn mun það líta en það mun vera eytt á jörðinni og þeir sem eru syndarar mun skjálfa af ótta og hryllingi.
Italy
Foto NASA di mano di Dio ha visto nello spazio!
Tu credi? Sono assolutamente convinto che egli è più stupido della NASA. Dio esiste, ma storie fotografate o la mano di migliaia di storie che circolano nel mondo sono solo storie per bambini.
Coloro che sono fedeli sanno che Dio è onnipotente, amorevole e anche gelosa.
Un giorno sembrerà, ma sarà distrutto a terra e quelli che sono i peccatori tremerà di paura e di orrore.
Japon
神の手のNASAの画像はスペースで見られる!
あなたは思いますか?私は絶対に彼はより多くのNASAのもばかげていると確信しています。神は存在する世界で循環物語の何千もの撮影や手の話はただの子供のための物語です。
人忠実な人は、神が嫉妬を含む全能の神、愛する、とされていることを知っている。
ある日、それはなりますが、地上で破壊され、誰が罪人である人は恐怖と恐怖に震えるされます。
Latin
NASA imaginem Dei manu videri suffodiant!
Putatis Absolute ego certum est stultius quam NASA. Photographed sed Deus est si manu stories stories milibus rotunditatem in mundo justi stories puerorum.
Tuis enim fidelibus cognosci Deum esse omnipotentem, et miserátor, et etiam invidet.
Uno die autem videbo destruetur humo qui peccatores commota et horror.
Letonia
NASA attēlu Dieva roku redzēt telpā!
Jūs domājat? Es esmu pilnīgi pārliecināts, ka viņš ir vairāk stulba nekā NASA. Dievs pastāv, bet fotografēja vai rokas stāsti tūkstošiem stāstu cirkulē pasaulē ir tikai stāsti bērniem.
Tie, kuri ir uzticīgi zina, ka Dievs ir šausmīgi, mīlošs, ieskaitot greizsirdīgs.
Kādu dienu tas izskatās, bet tas tiks iznīcināta uz zemes un tie, kas esam grēcinieki būs drebēt bailēs un šausmās.
Lituania
NASA nuotrauka Dievo ranka vertinti vietos!
Jūs manote? Esu visiškai įsitikinęs, kad jis yra labiau kvailas nei NASA. Dievas egzistuoja, bet fotografuotas ar rankiniuose istorijas tūkstančių istorijų platinimą visame pasaulyje yra tik istorijas vaikams.
Tie, kurie tikintieji žino, kad Dievas yra visagalis, mylintis, ir įskaitant pavydi.
Vieną dieną jis atrodys, bet ji bus sunaikinta, dėl to ir tie, kurie esame nusidėjėliai bus drebėti iš baimės ir siaubo.
Macedonia
НАСА слика на Божјата рака се гледа во просторот!
Што мислите? Јас сум апсолутно убеден дека тој е повеќе глуп од НАСА. Бог постои, но фотографирани или рака приказните на илјадници приказни кои циркулираат во светот се само приказни за деца.
Оние кои се верници знаат дека Бог е Семоќен, љубовен, вклучувајќи и љубоморен.
Еден ден тоа ќе изгледа, но тоа ќе бидат уништени на земјата и на оние кои се грешници ќе трепери од страв и ужас.
Malay
NASA gambar tangan Tuhan kelihatan di luar angkasa!
Anda fikir? Saya benar-benar yakin bahawa dia lebih bodoh daripada NASA. Tuhan itu ada tapi cerita difoto atau tangan ribuan cerita beredar di dunia hanya cerita untuk anak-anak.
Mereka yang setia tahu bahawa Allah adalah Maha Kuasa, Loving, dan termasuk cemburu.
Suatu hari akan terlihat namun akan dihancurkan di tanah dan orang-orang yang berdosa akan gementar dengan rasa takut dan ngeri.
Malta
Stampa NASA 'l-idejn Alla tidher fl-ispazju!
Taħseb? Jiena assolutament konvinta li huwa aktar stupid minn NASA. Alla jeżisti iżda l-istejjer fotografat jew bl-idejn ta 'eluf ta'stejjer jiċċirkola fid-dinja huma biss stejjer għat-tfal.
Dawk li huma fidili jafu li Alla huwa Almighty, Loving, u inkluż jealous.
Ġurnata waħda se tfittex iżda se tkun meqruda fuq l-art u dawk li huma sinners se tremble mal-biża 'u orrur.
Norway
NASA bilde av Guds hånd sett i verdensrommet!
Du tror? Jeg er helt overbevist om at han er dummere enn NASA. Gud eksisterer, men fotografert eller hånd historier om tusenvis av historier sirkulerer i verden er bare historier for barn.
De som er trofaste vet at Gud er allmektig, Loving, og med sjalu.
En dag vil det se ut, men det vil bli ødelagt på bakken og de som er syndere skal skjelve av frykt og redsel.
Persa
تصویر ناسا از دست خدا در فضا دیده می شود!
شما فکر می کنید؟ من کاملا متقاعد شدم که او احمق تر است از ناسا. خدا وجود دارد اما داستان عکس و یا دست از هزاران داستان در گردش در جهان تنها داستان برای کودکان.
کسانی که وفادار می دانم که خداست قادر متعال ، دوست داشتنی، و از جمله حسادت.
یک روز آن را نگاه خواهد کرد اما از آن خواهد شد بر روی زمین نابود شده و کسانی که گناهکاران که با ترس و وحشت میلرزی.
Poland
Zdjęcie NASA ręki Boga widać w kosmosie!
Myślisz? Jestem absolutnie przekonany, że jest głupszy niż NASA. Bóg istnieje, ale sfotografowane lub ręcznie historie tysięcy opowieści krążących w świecie są tylko bajki dla dzieci.
Wierni wiedzą, że Bóg jest wszechmocny, kochający i tym zazdrosny.
Pewnego dnia będzie to wyglądało, ale to będzie zniszczone na ziemi i tych, którzy są grzesznikami będzie trząść się ze strachu i przerażenia.
Portugal
NASA imagem da mão de Deus é visto no espaço!
Você acha? Estou absolutamente convencido de que ele é mais estúpido do que a NASA. Deus existe, mas as histórias fotografadas ou mão de milhares de histórias que circulam no mundo são apenas histórias para crianças.
Aqueles que são fiéis sabem que Deus é Todo-Poderoso, Amoroso, inclusive com ciúmes.
Um dia ele vai olhar, mas ele será destruído no terreno e aqueles que são pecadores vão tremer de medo e horror.
Rusia
НАСА картина руку Бога видел в космосе!
Вы думаете? Я абсолютно убежден, что он глупее НАСА. Бог существует, но фотографироваться или стороны истории тысячи историй, циркулирующих в мире просто рассказы для детей.
Те, кто верны знаем, что Бог Всемогущий, Любящий, в том числе и ревновать.
Один день он будет выглядеть, но это будет уничтожено на земле и те, кто грешники будут дрожать от страха и ужаса.
Serbia
НАСА-слике руци Божјој видети у свемиру!
Мислиш? Ја сам апсолутно убеђен да је глупљи од НАСА. Бог постоји али фотографише или ручно приче хиљада прича циркулише у свету су само приче за децу.
Они који су верни знају да је Бог Свемогући, пун љубави, укључујући и љубоморан.
Једног дана он ће изгледати, али ће бити уништен на земљи и они који су грешници ће дрхтати од страха и ужаса.
Suajili
NASA picha ya mkono wa Mungu kuonekana katika nafasi!
Unafikiri? I am kabisa wanaamini kuwa yeye ni zaidi ya kijinga kuliko NASA. Mungu lipo lakini hadithi picha au mkono wa maelfu ya hadithi mzunguko katika dunia ni hadithi tu kwa ajili ya watoto.
Wale ambao ni waaminifu tunajua kwamba Mungu ni Mwenye nguvu, Mwenye mapenzi, na pamoja na wivu.
Siku moja itakuwa kuangalia lakini itakuwa kuharibiwa juu ya ardhi na wale ambao ni wenye zambi, kutetemeka kwa hofu na kitisho.
Sweden
NASA bild av Guds hand ses i rymden!
Tycker du? Jag är helt övertygad om att han är dummare än NASA. Gud existerar men fotograferad eller hand historier om tusentals berättelser som cirkulerar i världen är bara sagor för barn.
De som är trogna vet att Gud är allsmäktig, kärleksfull och med svartsjuk.
En dag kommer det att se men det kommer att förstöras på marken och de som är syndare kommer darra av rädsla och skräck.
Tagalo
NASA larawan ng Diyos kamay nakita sa space!
Sa tingin mo? Ako ganap na walang kumbinsido na siya ay mas bobo pa sa NASA. Dios na umiiral ngunit photographed o kamay kuwento ng libo-libo ng mga kuwento lipat sa mundo ay lamang ng mga kuwento para sa mga bata.
Sa mga taong tapat na malaman na ang Dios ay Makapangyarihan sa lahat, Loving, at kabilang ang seloso.
Isang araw ito ay tumingin ngunit ito ay pupuksain sa lupa at mga taong makasalanan ay manginig sa takot at horror.
Tailand
NASA ภาพจากมือของพระเจ้าเห็นในช่องว่าง!
คุณคิดว่า? ผมมั่นใจแน่นอนว่าเขาจะโง่มากขึ้นกว่านาซา พระเจ้ามีอยู่ แต่เรื่องการถ่ายรูปหรือมือของหลายพันเรื่องที่หมุนเวียนในโลกนี้เป็นเพียงเรื่องสำหรับเด็ก
ผู้ที่มีศรัทธารู้ว่าพระเจ้าเป็นผู้ทรงอำนาจรัก, และรวมทั้งขี้หึง
วันหนึ่งมันจะมีลักษณะ แต่จะถูกทำลายลงบนพื้นและผู้ที่เป็นคนบาปจะสั่นเทาด้วยความกลัวและความสยองขวัญ
Turcia
Tanrı elinin NASA tarafından uzay görüldü!
Sizce? Ben kesinlikle o daha NASA daha aptal olduğuna inanıyorum. Tanrı var ama dünyada dolaşan hikayeler binlerce fotoğrafı veya el hikayeler sadece çocuklar için hikayeler vardır.
Kim sadık olanlar Tanrı kıskanç dahil Yüce, sevgi dolu, ve olduğunu biliyorum.
Bir gün ama bakacağız bu zemin üzerinde imha edilecek ve kim günahkâr olanlar korku ve dehşet ile titreyecek.
Ucraina
НАСА картина руку Бога бачив у космосі!
Ви думаєте? Я абсолютно переконаний, що він дурніший НАСА. Бог існує, але фотографуватися або сторони історії тисячі історій, що циркулюють у світі просто оповідання для дітей.
Ті, хто вірні знаємо, що Бог Всемогутній, Люблячий, в тому числі і ревнувати.
Один день він буде виглядати, але це буде знищено на землі і ті, хто грішники будуть тремтіти від страху і жаху.
Urdu
خدا کے ہاتھ کا ناسا تصویر کی جگہ میں دیکھا!
آپ کیا سوچتے ہیں؟ مجھے بالکل یقین ہے کہ اس نے ناسا سے زیادہ پاگل ہے ہوں. خدا سے موجود ہے لیکن دنیا میں گردش کی خبروں میں ہزاروں کی تصاویر یا ہاتھ کی کہانیاں صرف بچوں کے لئے کہانیاں ہیں.
بیشک جو لوگ کر رہے ہیں ایمان والوں کو معلوم ہے کہ خدا غالب، محبت، حسد ، سمیت اور ہے.
یہ ایک دن دیکھو مگر اس زمین پر تباہ ہو جائیں گے اور وہ لوگ جو مجرم ہیں ، خوف اور دہشت سے لرزاں ہوں گے.
Vietnam
NASA hình ảnh của bàn tay của Thiên Chúa nhìn thấy trong không gian!
Bạn nghĩ sao? Tôi hoàn toàn tin rằng ông là ngu ngốc hơn so với NASA. Đức Chúa Trời tồn tại nhưng những câu chuyện chụp hình hoặc bàn tay của hàng ngàn câu chuyện lưu hành trên thế giới chỉ là truyện cho trẻ em.
Những người tín hữu biết rằng Thiên Chúa là Đấng toàn năng, yêu thương, và bao gồm cả ghen.
Một ngày nào đó nó sẽ xem xét nhưng nó sẽ bị phá hủy trên mặt đất và những người tội lỗi là những người sẽ run rẩy vì sợ hãi và kinh hoàng.
Yiddish
נאַסאַ בילד פון גאָט ס האַנט געזען אין פּלאַץ!
מיינט איר? איך בין לעגאַמרע קאַנווינסט אַז ער איז מער נאַריש ווי נאַסאַ. גאָט יגזיס אָבער פאָוטאַגראַפט אָדער האַנט דערציילונגען פון טויזנטער פון דערציילונגען סערקיאַלייטינג אין דער וועלט זענען נאָר דערציילונגען פֿאַר קינדער.
די, וואס זענען געטרייַ וויסן אַז גאָט איז אלמעכטיקער, לאָווינג, און אַרייַנגערעכנט מקנא.
איין טאָג עס וועט קוקן אָבער עס וועט זייַן חרובֿ אויף די ערד און די וואס זענען זינדיקע וועלן ציטערן מיט מורא און גרויל.